Medicare is a federally funded health insurance program created in 1965 as part of President Lyndon Johnson's Great Society initiative. In 2022, there were 58.6 million Medicare beneficiaries – 18% of the United States population. If you're Medicare-eligible, you're in good company. 
Find the right Medicare plan for you
Need Help Deciding The Right Medicare Coverage For You?
Free, unbiased service
Compare all major plans and carriers
Local, licensed insurance agents with 25+ years of experience
Medicare provides health coverage to people 65 years and older, certain younger people with disabilities, and individuals with End-Stage Renal Disease (ESRD) or other qualified illnesses. It helps cover medical costs like doctor visits, hospital stays, and other treatments. Here is more information about the program and who is eligible to receive its benefits. 
What are the Parts of Medicare?
Medicare has several parts, and there are public and private plan options. The public options are Original Medicare Part A (hospital insurance) and Medicare Part B (medical insurance). Private plan options include Part C Medicare Advantage plans, Part D stand-alone prescription drug plans, and Medicare Supplement plans (Medigap).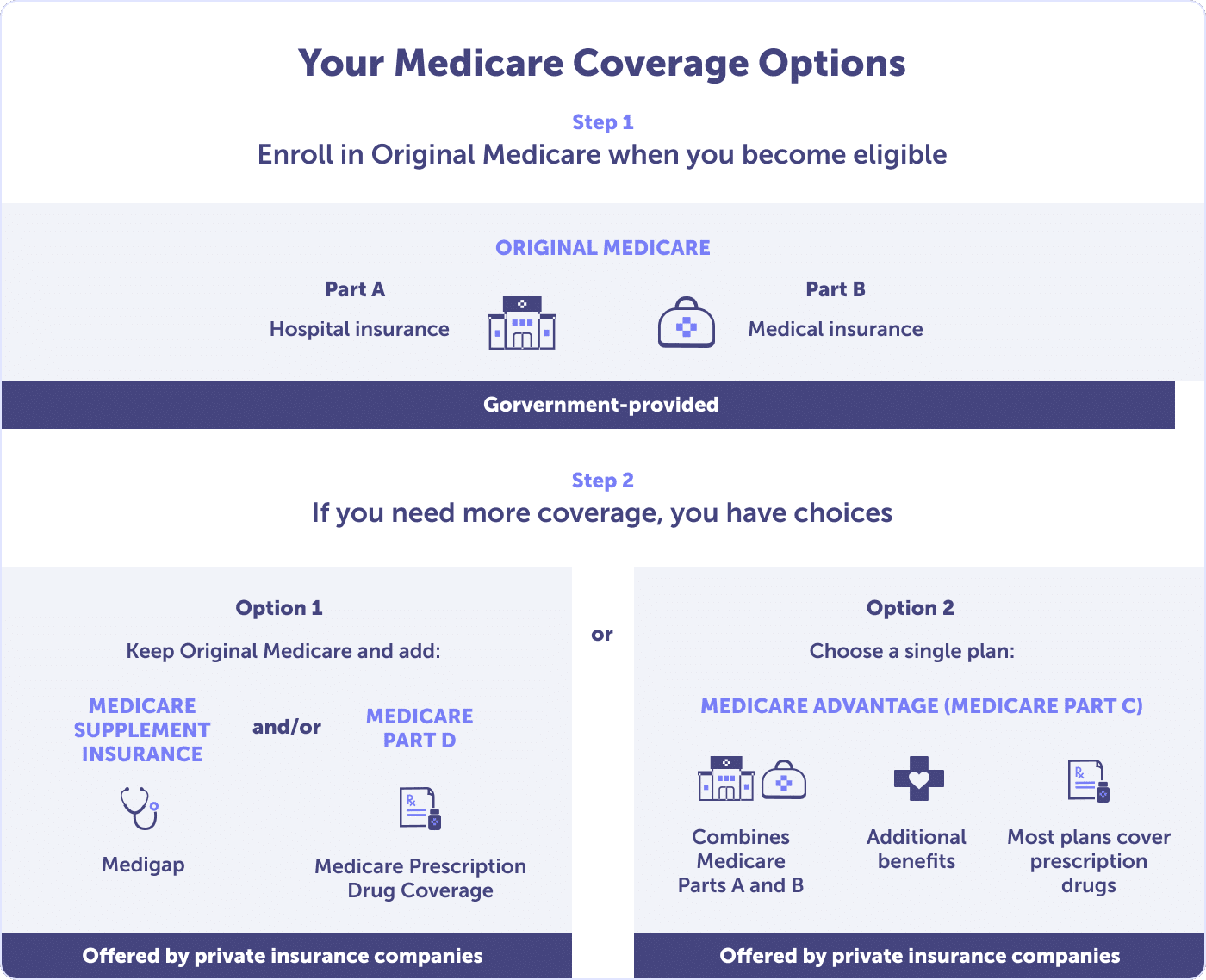 Medicare covers various services, including hospital stays, doctor visits, lab tests, home health care, and prescription drugs. The exact services covered depend on the type of plan you have. For example, Original Medicare (Parts A & B) typically covers hospital stays but not prescription drugs. However, if you purchase a Part D prescription drug plan or a Medicare Advantage Plan, you can get additional coverage for your medications and other benefits such as comprehensive dental, vision, hearing, and more.
To learn about your Medicare plan options and their coverage, visit our article "Your Medicare Plan Options." 
A local licensed Connie Health agent can also walk you through enrolling in Medicare for the first time. Call (623) 223-8884 (TTY: 711) to speak with an agent.   
Medicare Eligibility
If you are a US citizen or permanent resident who is 65 years old or older, you are eligible for Medicare. If you are younger than 65 but have specific disabilities or illnesses like End-Stage Renal Disease (ESRD), Amyotrophic Lateral Sclerosis (ALS), or chronic heart failure, you may also be eligible. Additionally, if you receive Social Security Disability Insurance benefits for 24 months in a row, you may qualify for Medicare regardless of your age. 
If you're wondering whether you qualify for Medicare, the answer may depend on your age and any disability status or illness you may have. To find out if you're eligible, take Connie Health's Medicare eligibility quiz. 
Not sure if it's time to enroll in Medicare? A local licensed Connie Health agent can help you navigate enrollment. Call (623) 223-8884 (TTY: 711) to speak with an agent.
How Does Medicare work?
When you become eligible for Medicare, you may be enrolled automatically in Original Medicare at the time of your 65th birthday, or you may need to take action to enroll. Enrolling in Original Medicare Parts A and B is your first step to being covered. You should also enroll in Medicare Part D prescription drug coverage if you don't have creditable coverage from another source. 
Agent tip:

"Already enrolled in Medicare Part A & B? Have your red-white-and-blue Medicare card available when you're ready to speak with a Connie Health local licensed agent."
Once you receive your red-white-and-blue Medicare card, you can decide whether to expand your Medicare coverage with private options like a Medicare Supplement (Medigap) or Medicare Advantage plan. These private plan options can lower your Medicare out-of-pocket costs. 
Do you need clarification on all your plan options? A local licensed Connie Health agent can help you choose the right plan for your health and budget. Call (623) 223-8884 (TTY: 711) to speak with an agent.
What is the Difference Between Medicare and Medicaid?
Medicare and Medicaid are two of the most well-known health insurance programs in the United States, but many people don't know the difference between the two. For seniors, in particular, understanding the distinction between Medicare and Medicaid is essential for getting the best coverage possible. 
Unlike Medicare, a federal program, Medicaid is administered by individual states but funded jointly by state and federal governments. It provides health insurance to low-income people who meet certain criteria, including families with children below a certain income level; pregnant women; adults aged 65 and over; blind or disabled individuals; and those receiving Supplemental Security Income (SSI) benefits. It covers physician visits, hospital stays, home health care, laboratory tests, X-rays, and physical therapy.
The critical difference between Medicaid and Medicare is that Medicaid covers those with limited resources, whereas Medicare covers those aged 65 or older, regardless of their financial situation. Furthermore, while Medicare does not cover long-term care services such as nursing homes or personal care assistance, Medicaid does provide some coverage for these services if it is deemed medically necessary by an approved medical provider.       
Seniors should know the key differences between Medicare and Medicaid when considering their healthcare options. While both programs provide important healthcare benefits to eligible recipients, it's crucial to understand how each program works so you can make sure you're getting the best coverage possible for your needs. With this knowledge, seniors can rest assured knowing they have access to quality healthcare services regardless of their financial situation or age.
A local licensed Connie Health agent can also walk you through enrolling in Medicare for the first time. Call (623) 223-8884 (TTY: 711) to speak with an agent.
Was this article helpful?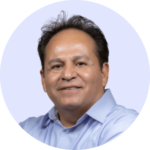 Read more by David Luna
I am a Spanish-speaking Arizona Life and Health Insurance Licensed Agent and have been helping people with Medicare since 2005. I am a Marine Corps Veteran & former police officer. I enjoy watching football and basketball but hold family time in the highest regard.