About to turn 65? Congrats! That means it's time to start thinking about Medicare. Getting it right is important to avoid penalties and hassle in the future. There are several different options to consider when signing up for Medicare, and there is no one size fits all plan.
We break down the frequently asked questions to help you make the most informed decisions as you begin your Medicare journey.
What is Medicare?
Medicare is a government-run health insurance program for United States citizens (plus permanent residents with more than five years of continuous residency) who are age 65 and older or people with a disability who are any age.
Find the right Medicare plan for you
Need Help Deciding The Right Medicare Coverage For You?
Free, unbiased service
Compare all major plans and carriers
Local, licensed insurance agents with 25+ years of experience
What does Medicare cover?
Original Medicare covers 80% of the cost of Medicare-covered services through Medicare Parts A & B.
Part A covers Medicare inpatient care, including care received while in a hospital, a skilled nursing facility, and, in limited circumstances, at home. Part B is part of Original Medicare and covers medical services and supplies that are medically necessary to treat your health condition. This includes outpatient care, preventive services, ambulance services, and durable medical equipment.
If Medicare covers 80%, how do I cover the remaining 20%?
There are two options Medicare-eligible individuals can choose to get their Medicare coverage.
Medicare Supplement: also known as Medigap, covers the 20% of the expense for Parts A & B not covered by Original Medicare. It doesn't cover prescription drug costs (Part D) or any extra benefits, so you will also need a Prescription Drug Plan (Part D). There are several different levels of Medicare Supplement coverage, depending on your needs and budget.
Medicare Advantage: (also known as Medicare Part C) coverage is administered by private insurance companies contracted with Medicare. Medicare Advantage covers everything that Original Medicare (parts A and B) covers and may cover extra benefits as well, such as prescription drugs, dental, vision, and hearing care
When can I apply for Medicare?
If you already receive Social Security benefits, you will automatically be enrolled in Medicare Parts A & B the month you turn 65. Otherwise, your Initial Enrollment Period begins three months before your birth month and ends three months after your birth month the year you turn 65. You may be subject to penalties (increased premiums) if you fail to sign up for Medicare during this period. Learn more about Medicare and turning 65 with our helpful guide.
How do I enroll in Original Medicare (Parts A & B)?
As mentioned above, you will automatically be signed up for Medicare Part A & B the month you turn 65. If you apply for Medicare at 65, you have several options through the Social Security Administration.
Online at ssa.gov.
Call Social Security at 1-800-772-1213. TTY users can call 1-800-325-0778.
In-person at your local SSA office.
How do I purchase a Medicare Supplement plan or a Medicare Advantage plan?
Speak to a licensed agent: local agents understand local plans and the healthcare landscape. They are best positioned to help you make the right decision. Local agents, like Connie Health, will also help you navigate your Medicare insurance after purchasing your coverage.
Enroll online: If you feel you have everything you need to make a decision, you can enroll online on Connie Health, Medicare.gov, or other sites. If you purchase online through Connie Health, you will still be eligible for our services to help you with any Medicare-related questions after you purchase coverage.
Enroll directly with the insurance company – this is always an option, though it doesn't save you any money compared to enrolling online or with an agent. They also only sell their plans and not all insurance company's plans like the options above. Please keep in mind that if you choose this option you won't have an independent agent to consult with or who can advocate for you.
Speak with a local licensed insurance agent
What if I am still working?
Most people should enroll in Part A when they turn 65, but certain people may choose to delay Part B. The most common reason for postponing Part B is you already have existing coverage through your employer or spouse's employer. The employer's size determines whether you may be able to delay signing up for Part A and Part B without having to pay a penalty at a later date. If your employer has fewer than 20 employees, you should sign up for Part A and Part B when you're first eligible. In that case, Medicare will pay for your healthcare before your employer's coverage does.
If your employer has 20 or more employees, ask your benefits manager if you have creditable group health plan coverage (as defined by the IRS). Most health insurance coverage provided by employers is considered creditable coverage. People with group health coverage from their current employment may be able to delay Part A and Part B without a lifetime late enrollment penalty. If you want to delay both Part A and Part B coverage, you don't need to do anything when you turn 65.
Last updated: May 11, 2022
Was this article helpful?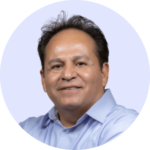 Read more by David Luna
I am a Spanish-speaking Arizona Life and Health Insurance Licensed Agent and have been helping people with Medicare since 2005. I am a Marine Corps Veteran & former police officer. I enjoy watching football and basketball but hold family time in the highest regard.